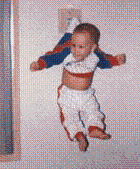 Ever needed to leave the house for a few hours, but couldn't find a babysitter on short notice? Are you worried that Junior might fall down the stairs while you're busy ironing? Then the Baby Hanger may be just for you.
Solidly constructed from high-class materials, the Baby Hanger is made to last, without breaking or dropping your child. The Baby Hanger may be installed just about anywhere; screwed to the wall, hung over the back of a chair, or even strapped to a post. Screws, hooks, and straps are included to allow the full range of options.
The Baby Hanger is available for $9.99, plus $5 for shipping and handling. Send a check or money order to:
Baby Hanger
123 Bridgeout Drive
Nowhere, MI 98765

Inquiries may be made at (123)456-7890.